The Updated Uniview 6 Megapixel LightHunter
UNIVIEW 6MP LIGHTHUNTER PRIME CAMERA 
IPC3616SB-ADF28KM-I0
Key Features Of The 6MP LightHunter Prime Camera






High quality image with 6MP, 1/2.7"CMOS Starlight Larger sensor 
6MP(3072*2048)@25/20fps; 4MP (2560*1440)@30/25fps; 3MP(2304*1296 ) @30/25fps; 2MP (1920*1080) @30/25fps
Ultra 265, H.265, H.264, MJPEG
Intelligent perimeter protection, include cross line, intrusion, enter area, leave area detection
Based on target classification, smart intrusion prevention significantly reduce false alarm caused by leaves, birds and lights etc., accurately focus on human and, motor vehicle and non-motor vehicle
LightHunter technology ensures ultra-high image quality in low illumination environment
120dB true WDR technology enables clear image in strong light scene
Support 9:16 Corridor Mode
Built-in Mic
Smart IR, up to 30m (98ft) IR distance
Supports 256 G Micro SD card
IP67 protection
IPC3618SB-ADF2.8KMC-IO
Uniview 8MP IP LightHunter
Prime Deep Learning AI Series
IR Tri-Guard Turret Camera
PC675LFW-AX4DUPKC-VG
Uniview 5MP IP LightHunter
Deep Learning AI Series
4x IR Tri-Guard PTZ Camera
LightHunter Technology
The main goal of video surveillance is to see clearly anytime, anywhere. Cameras need to be well prepared for providing high-resolution and colorful images in different light conditions. The LightHunter Technology is an innovative technology that delivers vivid color, appropriate brightness, and extremely clear images in ultra-low light. LightHunter Technology significantly improves the image brightness with F1.6 Large Iris design & BSI sensor. With the specially designed large size sensors, the IPCs have higher photosensitivity, and feature high SNR. UNV's uniquely patented technology U-ISP improves the definition and brightness of images. U-ISP features a new generation of noise reduction technology to improve Signal-Noise Ratio and reduce blur. It effectively reduces blur during objects moving, which ensures that the image is restored to the true scene. Combine hardware and software advantages, LightHunter Technology guarantees the image full of color under ultra-low light.
UNV new-generation algorithm (U-ISP) has many advantages, such as reducing blur and noise, and increasing sharpness. All of these advantages improve the definition and brightness of images. As shown in the following figure, a criminal is stealing a wallet from the car. The normal IPC's image is full of snowflakes. The most obvious difference compared to the normal IPC's image, is that we see clearer and more colorful images and obtain more detailed information by the LightHunter IPC. The detailed information, such as facial features, clothing color, and plate number is easily identifiable by law enforcement.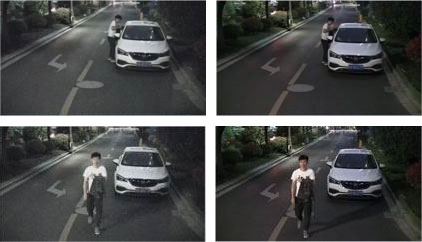 (Normal IPC)         (UNV LightHunter)
Actual Application
LightHunter technology meets the surveillance requirements of users for high-quality image effects around the clock. The UNV LightHunter cameras can be used in schools, plazas, parking lots, shopping malls, airports, hotels, hospitals or any low-illumination scenes that users need.